DRAWSTRING BUN COVER HAIRPIECES
All bun cover hairpieces are attatched to a mesh covered, elastic edged dome. The dome has a drawsring running around the perimter that can be adjusted to your desired width. There are also inner combs inside the dome to secure the hairpiece to your hair. These are meant to be worn over buns, but also can be worn over the smallest of pigtails, since the combs inside are so secure. The dome cover on these hairpieces provides the wearer with the fullest looking hairpiece in the industry, even for the shortest of nub pigtails underneath.

---
Straw Ninja Drawstring Hairpiece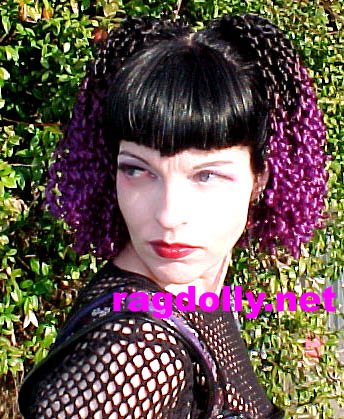 Photo above is shown in two hairpieces color black/purple tips.
These falls are super cute and require no care. They consist of super tight spiral curls for a cute babydoll look. Since they are drawstring and so easy to apply, they can be worn daily.
Price $60.00 per ponytail
These are not sold in pairs, for a pair, please select 2 of the item.