WOOL DREAD FALLS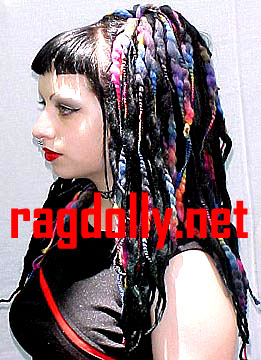 Above photo is short pair of wool falls in solid black base with rainbow swirl accents.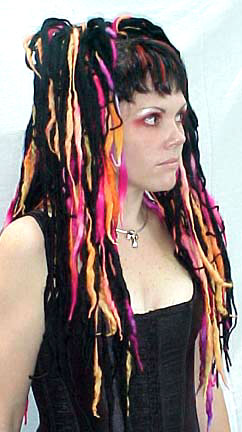 Long pair of falls above are made with malibu swirled wool and a solid black base.

Description: These Long Lasting falls are made of thick and thin twisted wool that looks like dreads. Falls come tapered for a natural look and only weigh 5.6 ounces or less a pair. Wool does not tangle and does not need any special care. The type of wool used mostly comes in swirls of color, so there will not be one solid accent color most of the time.
Note: This is hand dyed wool, so falls have different dye lots and colors may vary slightly from photo.
Attatchment: These falls are mounted on black fabric covered elastics. For information on how to attatch these type of falls, please visit the how to page.

---
PRE-MADE WOOL FALLS
Falls are only sold in pairs (one pair "2 matched falls")
Quantities are limited, site is updated while supplies last.


Short Pair of Wool Falls (2 matched falls)
Color: Black w/ teal and teal tinsel accents
Length: tapered pieces with longest being 20"
Price for pair: $80.00
Short Pair of Wool Falls (2 matched falls)
Color: Black w/ dark blue
Length: tapered pieces with longest being 20"
Price for pair: $80.00
Short Pair of Wool Falls (2 matched falls)
Color: Black w/ dark purple and blue/purple swirl pieces
Length: tapered pieces with longest being 20"
Price for pair: $80.00